Website Development Financing in Kalamazoo and Southwest Michigan
Finance Your Website With Monthly Payments and No Interest!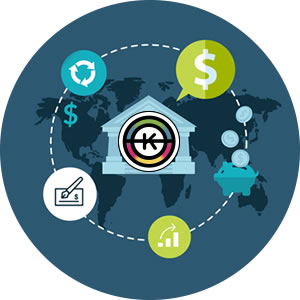 As a leading Kalamazoo website design company catering toward small and medium-sized businesses, we understand that our clients need flexibility - so we offer several website financing options for your website development project.
Most clients choose our in-house web design financing.
With our in-house financing, it is very easy on your cashflow to have the incredible and affordable website you desire. That way your new website is out there working, bringing in the cashflow you need to cover the montly investment - and more!
How Our In-House Website Financing Works
If your Kalamazoo area business or organization wants simple flexibility, look first at our in-house no-interest website financing. With this website financing option, we divide the total website investment amount into easy 30 day payments over (up to) six months. This easy website financing option has allowed many businesses and entrepreneurs to grow their business to the next level, and in fact, most of our clients take advantage of this monthly payment plan.
Other Options to Finance Your Kallen Web Design Website
Best Short-Term Loan Provider for Businesses Over $100k Revenue: OnDeck
We recommend OnDeck for businesses who have over $100k in yearly revenues and need longer term financing.
OnDeck offers 3 to 36 month terms, and you can borrow as little as $5,000 or as much as $500,000.
To qualify for an OnDeck loan, your company must also have 12 months of history and at least one of the business owners must have a personal credit score above 500.*
Best Line of Credit Provider For Businesses Under $100k: Kabbage
We recommend Kabbage financing to smaller clients who are generating at least $50k in yearly revenues.
Kabbage loans are for 1 to 12 month terms. You can borrow between $2,000 and $100,000. Kabbage loans operate like a line of credit. You only pay interest on funds that you withdraw.
To qualify for a Kabbage line of credit, your company must have been operating for at least 1 year.*
PayPal Working Capital is both cheap and flexible. There's no maturity date for these PayPal loans, and instead of making weekly or monthly payments, you pay a fixed percentage of your monthly PayPal sales.
Your company must receive at least $20k per year via PayPal, and the maximum amount you can borrow is 18% of your annual PayPal sales. For example, if your firm does $15,000 in revenues per month through PayPal, the maximum amount that you can borrow will be $32,400.*
*Kallen Web Design provides this information for your consideration but does not guarantee this information is up-to-date. Please check with individual lenders to verify their loan products.


Do you have a website project in mind?
We'd love to hear about it. Take five minutes to call or fill out a website development project form. You'll have a chance to speak directly with the Kallen Web Design owners, and start down the path to having the website you need to increase your business or market your organization.